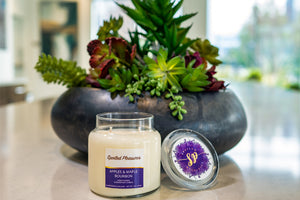 Spoiled Pleasures
Shop our exceptional selection of homemade products for all your relaxation needs. Custom orders welcome. Please feel free to contact our customer service with questions or comments.
shop now
We all could use a little more luck these days, right? These cute "pots of gold" are the perfect addition to your relaxing warm bath at the end of the day! The combination of baking soda and citric acid create the fizzing sensation bath bombs are famous for.
These two products (bath bomb & soy candle) together will help you relax completely. Our 6oz. hexagon (jars) burns approximately 35 to 60 hours in a glass container that can withstand extreme temperatures.
Both the bath bomb and soy candle are scented with "pot of gold" fragrance oil. This fragrance has notes of pear, green grapes, kiwi, raspberry, peach, jasmine and white musk.
---
0 products
Sorry, there are no products in this collection.