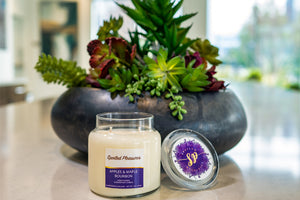 Spoiled Pleasures
Shop our exceptional selection of homemade products for all your relaxation needs. Custom orders welcome. Please feel free to contact our customer service with questions or comments.
shop now
Dads are different- so let's switch gears this year and treat Dad to a meaningful Father's Day gift that's just as unique as he is, whether you're celebrating together or remembering him in a special way this Father's Day box is for your special SUPER HERO.
9oz Soy Candle burns approximately 35 to 60 hours.
Choose between 4 different fragrances!
-          Bowties
-          The Gentleman
-          Barbershop
-          Caribbean Teakwood
All-Natural Shaving Cream (3oz): Unisex shaving cream that's whipped to perfection. All-natural ingredients that will leave your skin feeling soft, smooth, and moisturized.
Raw African Black Soap: African black soap is rich in essential vitamins and minerals that are powerful enough to detoxify the skin while providing the ultimate in moisture. It is naturally alkaline and produces a rich soothing lather to thoroughly treat any skin imperfection and any skin type including the dry and rough, oily, and moderate skin types.
1 JM's Dominican Cigar (Corojo-Corona)- JM's Dominican Connecticut is hand rolled from well-aged Cuban seed tobacco leaves grown in the rich soils of the Dominican Republic, then wrapped carefully for a smooth and flavorful smoke.
1 Smudge Stick: It is said that smudging sage removes negative energy from a person, clears the mind, and relaxes the body. 
2 Razors
1 Plastic shot cup with gold trimming
Box of Matches- 20 pack
---
0 products
Sorry, there are no products in this collection.