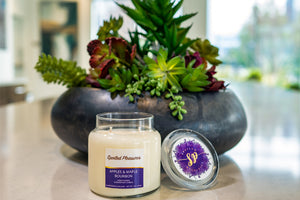 Spoiled Pleasures
Shop our exceptional selection of homemade products for all your relaxation needs. Custom orders welcome. Please feel free to contact our customer service with questions or comments.
shop now
Hop to it. These limited-edition Easter candles are ones that the entire family will love. 
Our 6oz. hexagon (jars) burns approximately 35 to 60 hours in a glass container that can withstand extreme temperatures.
Purple- Bunny Hops: a vibrant scent that embraces Easter time.
Top Notes: Spring flowers, Green leaves
Middle Notes: Mint
Base Notes: Sandalwood, Musk
Blue- Baby Powder: Powdery sweet bliss
Top Notes: Blooming Lilac, Sweet Jasmine, Wild Rose and Fresh Lily
Middle Notes: Spice
Base Notes: Sandalwood
Bright Green- Lime Margarita: Refreshing lime fragrance with a hint of margarita
Top Notes: Lime Fizz, Sweet Sugar
Middle Notes: Tequila, Orange and Lemon Citrus
Base Notes: Vanilla and Woods
Bright Pink- Sea Salt & Orchid: A nice, smooth and elegant spa fragrance
Top Notes: Sea Salt, Ozone
Middle Notes: Jasmine, Lily of the Valley, Green Leaves
Base Notes: Wood, Tonka Bean
Bright Yellow- Lemon Squeeze: Bright & spunky lemon with a fresh citrus delight.
Top Notes: Lemon, Clean Floral
Middle Notes: Lemon Verbena, Lemongrass, Bergamot
Base Notes: Vanilla, Musk
---
0 products
Sorry, there are no products in this collection.